We are excited to announce the launch of Passport: Cities - a database providing fully comparable data and in-depth analysis on 850 cities worldwide. 
Passport: Cities provides localized city economic profiles and analysis on consumers.  Analysis is based on urban economic theory and was developed by Euromonitor's extended global network of in-country analysts.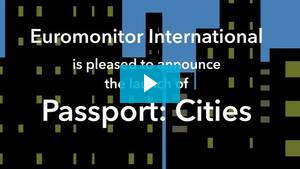 Click "play" to see 5 key findings from Passport: Cities
"Passport: Cities looks at consumers and the economic profiles of cities around the globe.  For example, in terms of both population and real per capita GDP, we can look globally to find extremely strong growth through 2020 in Chinese cities. Since Chinese economic growth and job creation takes place primarily in cities, people migrate from rural to urban areas on a very large scale," explains Kotryna Gailiute, City Project Manager at Euromonitor International. "In per capita GDP creation the winners will not be Beijing or Shanghai, but the less well-known metropolises, such as Wuhan and Tianjin."
The database covers 850 cities and features in-depth city reviews, regularly updated reports and breaking news analysis.  Reports cover the economic make-up, demographic trends, level and distribution of household income, consumer spending preferences, cities infrastructure and affordability at the city level.
"The population that moves from rural to urban areas will become more accessible to businesses due to better infrastructure in cities. Consumers will also switch from rural to urban consumption habits and lifestyles. Increasing per capita GDP means that demand will rise for higher-end products, such as high-quality goods and services, organic food, leisure and recreation services, hi-tech gadgets and branded clothing," said Gailiute.